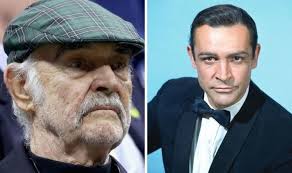 An actor's life, the professionals believe, can be summed up  in four lines. Say his name is John Smith. The lines declared by prospective employers – directors, producers, agents, and such –  would be:
Line 1 – Who is John Smith?
When he is young and unknown.
Line 2 – Let's give young John Smith a try.
After years of struggling.
Line 3 – What we need is a younger John Smith.
When he's been a success  for some considerable  time.
Line 4 – Who is John Smith?
As he once again trudges  towards oblivion.
All actors must face the relentless truth of these four lines.
All of them.  Marilyn  Monroe and Jean Harlow,  Laurence Olivier and Clark Gable.  All of them.
Including Sean Connery.
So…Who is Sean Connery?
————————————
"Have you thought of Sean?"
"Who?"
"Sean," she repeated, "Sean Connery?"
"Sean? You gotta be kidding," I replied. "Mumbles, couldn't get the words out."
There was a pause. The phone was silent. But after a while she said, "The ladies would like it."
The time was March, 1957. The place was the BBC Television Centre. The setting, a small office in the first building to be opened in the BBC's  vast scheme for studios and offices in West London. Eventually this building would become a block of offices for Production Designers only. But at that time, all of us – producers, directors, writers, administrators – were glad to leave behind the shabby constraints of a nearby street where several old houses had been knocked together to accommodate us. That street was called Lime Grove – were there ever any limes on Lime Grove? – and resulted in the usual hodge-podge of complicated corridors round crowded corners, while the rooms themselves were squalid, minimal, and always cold. Miserably cold. Hardly conditions for workers of the glamorous and exciting and new medium called television.
That was the background for the above conversation.
At the time the world was oblivious of Sean Connery. Rightly so. He was unknown. To all but a few of us.  A nice enough guy, pleasant to be with, a reasonably good poker player with a great grin. He was an 'extra', a 'crowd artiste' and had 'walked on' in a number of television productions. Including mine. He had never played a major role in his life.  And it showed. He was  a quiet self-effacing young man, eager to show the world he was capable of being more than moving background in film and television. His acting ability appeared to be minimal. Useful for filling small specific bits of a production, yes, but hardly anything more. Untested. Un-honed. There was little to indicate the lofty peaks to which he would eventually rise.
I was casting a new play specifically written for television. A rarity in those days when most television dramas were adaptation of stage plays that showed their theatrical origins by creaking along, stuffed with middle class mores and muddled sequences. But not this new play. It was called Requiem For a Heavyweight.  The story of an ageing New York prize-fighter who is let down by friends, manager, trainer, corner-men and all the other colourful hangers-on in his world, as he loses his ability to make money with his fists. The play had already been broadcast in the States. In the days of live television any recorded reproductions of the broadcasted shows – a kinescope or telerecording – were of such inferior quality it was no use to networks abroad.  The only alternative was to create a new production.
Not counting the walk-ons – dozens – there were 25 speaking parts in the script. The smaller roles were cast. Warren Mitchell – who went on to glory as Alf Garnett in 'Til Death Us Do Part – played Army the boxer's trainer.  The part of Maish, the fighter's manager, I offered to my friend Sam Wanamaker, who hesitated before turning it down – understandably –  as it was not a leading role. I also employed another unknown named Michael Caine – who is Michael Caine?  – so unknown that he gets no billing in the official Radio Times cast list, and is mentioned only on the show report. The main character, the boxer Harlan 'Mountain' McClintock, had been played in the American production by Jack Palance. I could think of no one better. I phoned Palance's agent in Hollywood. "Jack would love to do it," said the agent. A deal was made. Good. Easy, peasy, I thought.
Even as a relatively neophytic producer/director, I should have known better.
On the Friday before the Monday when rehearsals were to start, I got a call from Palance's agent. "Jack ain't gonna make it," said the voice from Hollywood. The agent had found something else – by implication, something better – for his client to do. Palance would not be coming over. "Sorry," said the agent.
Panic.
Rehearsals for most productions are three weeks long. The weekend before rehearsals begin is the director's most hectic period. Working out the staging of the script – how to best convert words from typed pages into actions and movements and pictures – adding and subtracting dialogue, changing backgrounds, deciding where to use music, thinking of performances – have I cast it properly! – and in the case of live television, working out the many and varied chess board manoeuvres needed to place four cameras, three sound booms, lighting, as well as myriad other mechanical etceteras involved in studio production. And now all such preparation had to be abandoned.
The next hours were to be spent in frantic search for an actor to play the Heavyweight.
Concentrate, I told my small staff – production secretary, stage manager – somewhere out there is the right actor waiting for us to find him. Concentrate! We will audition everyone that you, me, the postman, the postman's wife, can think of. Throw the net wide. Find someone – the right someone – to be our Harlan 'Mountain' McClintock.
The rest of that Friday was spent on the phone bombarding agents. Or running down corridors to seek advice from other directors. Or hassling  writers, actors, technicians, caterers – yes even caterers. Or looking up old cast lists – "What about So-and-so? Who? Remember he was in – No, too north country. Then what about – ? No, too hammy. Please Lord, help me. Help me. Help!"
I auditioned actors until late that night. And the appointments arranged for Saturday were endless. Starting at 8 am and on and on and on. An interview every 15 minutes. By Sunday lunch-time I had narrowed it down to four actors
By tea-time, two.
By dinner-time I gave the job to Sean Connery.
The rest is history.
Further information on Who is Sean Connery?
contact: berry@tabletopproductions.com
I'MJUSTTHEGUYWHOSAYACTION (c) blogs
Blogs include:PETER SELLERS OWES ME £200;; BETTE DAVIS AND AN EAR;  MICK JAGGER AS DRACULA; LARRY OLIVIER TELLS A JOKE, BADLY; FUCKIN' VEGETABLES THAT MOVE!